International Cooperation Activity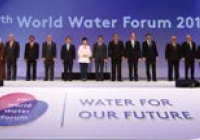 World Water Forum
The world largest international gathering on water that draws more than 40,000 people from all around the world.
Participated in the 4th (Mexico, 2006), the 5th (Istanbul, 2009), the 6th (Marseille, 2012), the 7th (Daegu and Gyeongbuk, 2015), and the 8th forum (Brasilia, 2018)
Sub Regional Coordinator for the Northeast Asian Region of the Regional Process on the 6th (Marseille, 2012)
Served as the coordinating organization for the Science & Technology Process and the Citizens Forum; the Northeast Asia Sub Regional coordinator in the Regional Process; a member of the design group in the Thematic Process, and the host of the Water Business Forum (Daegu and Gyeongbuk, 2015)
The Theme, Topic and Session Coordinator of Theme Capacity in the Thematic Process, and the Northeast Asia Sub Regional Coordinator in the Regional Process, Organizer of the Korean Pavilion in EXPO (Brasilia, 2018)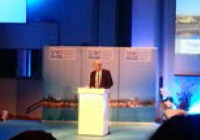 World Water Week in Stockholm
A platform to raise major water issues, share effective policies and current issues related to water, and develop ideas among the participants of government, academia and researching communities and civil society.
Operating sessions and meetings inviting diverse stakholders to exchange experiences, knowledge and information.
The winning team of Korea Junior Water Prize attends Stockholm Junior Water Prize as a representative of Korea.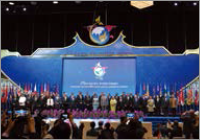 Asia Pacific Water Summit
Gathering of leaders of the Asia Pacific region to showcase leadership in decision-making, excellence in practice and innovation, and concrete results that have had substantial impacts at the grassroots levels through policy trickling down to the general public.
Organizing and attending thematic and technical sessions at the 2nd (Chiang Mai, 2013) APWS in cooperation with Ministry of Land, infrastructure, and Transport.
Co organizing session under the theme of youth and gender's role at the 3rd (Yangon, 2017) APWS and discussing prepatory processese of the Regional Process in the 8th World Water Forum, etc.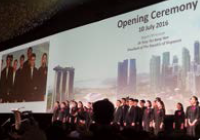 Singapore International Water Week
Biennial gathering to share the best model and the latest technology of the water industry and to provide business opportunity.
Strengthening networking activities and participation as a support group member of the Singapore International Water Week.
Organizing exhibition, Business Forum/seminar and business matchmaking.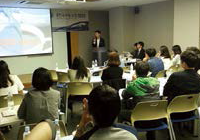 Chuncheon Global Water Forum
International symposium held in Korea providing a venue of discussion among local water-related stakeholders and international experts.
Operating sessions under the theme of education, youth and gender, etc.